Zoë Bakes Deep Dive: Coffee Chiffon Cake
A Q&A with Brooke Faudree, chef and owner of Quince Catering!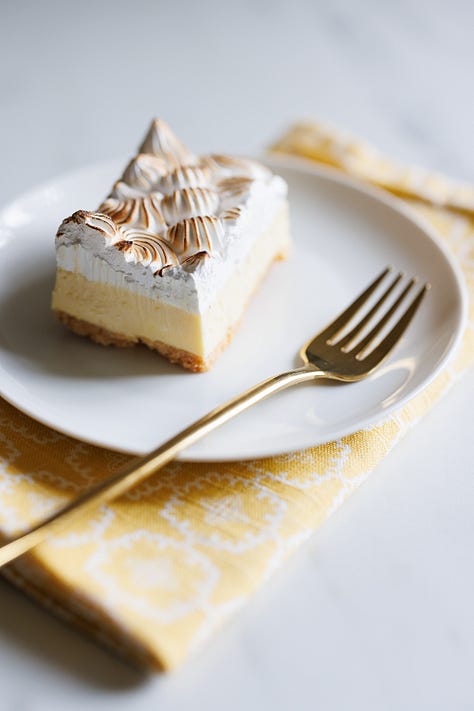 Before we dive in on this weekend's episode, I wanted to make sure you saw this stunning Lemon Ice Cream Cake recipe from Amy Thielen's new cookbook, Company! Get the recipe and scroll to the bottom of the blog post to find out how you could win a copy of her cookbook!
---
I knew there was something exceptional about Brooke Faudree the first time I saw her Instagram page. I was mesmerized by the beauty and story she created with food. I also admired her mastery of French techniques, both for savory and sweets. I followed her online for years before we met in person. She invited me to a dinner she was hosting and once we were in a room together it felt like we'd been friends forever. I knew the second I entered the room she decorated for the party that I wanted to work with her. Her gorgeous Instagram doesn't even begin to represent her ability to transform and transport you into a fantasy of her creation. Once I tasted her food I realized she is the real deal. Not only is everything she touches beautiful, but absolutely delicious. I was even more determined to work with Brooke.
Luck would have it that I was starting a new season of Zoë Bakes and she was available to be a part of my culinary team. On the show, I bake in front of the camera, but there is a world of prep, baking, styling and kitchen activity that you never see. It really does take a village to create the show and I am beyond lucky to have had Brooke join my team. Not only that, I knew I wanted to do an episode with Brooke to showcase her talent and have her help me throw the perfect party for my mentor, Sue Zelickson.
Sue had been instrumental in my career and I have always tried to pay it forward to young women in the food industry, as she had for me. Brooke is a total rock star and the sweetest person. I could not be prouder or more grateful to call her a friend and to work together. She has generously shared her personal journey in the food world and a beautiful Black Currant Frangipane Tartlets recipe below.
---
I'm celebrating my mentor on Zoë Bakes! I hosted an amazing party with help from my talented friend Brooke Faudree (more on her below!) and the guest of honor was the First Lady of the Twin Cities culinary scene, Sue Zelickson (I'll be interviewing Sue in an upcoming newsletter). I marked the occasion, which also happened to be her birthday, with a stunning multi-tiered chiffon cake with coffee and honeycomb candy. See it all this Sunday, September 10 at 12 p.m. CT/1 p.m. ET on Magnolia Network!
---
Coffee Chiffon Cake
This is the recipe for the show-stopping cake from the episode! If you have a special occasion, this cake will be a huge hit. It was the centerpiece of the table, and I went all out on the flavors to create something special for Sue. When I asked Sue what kind of cake she wanted, she didn't hesitate and described the coffee crunch cake she had eaten years before at Blum's pastry shop in San Fransisco. Not only did she tell me every detail of the cake but had one sent from the LA bakery, Valerie Confections. Gold Belly delivered the cake and I understood why Sue thought it so special. Chiffon cake with coffee whipped cream and honeycomb candy, what's not to love? I wanted a cake that was tiered and as tall as Sue, so I had to make some modifications, but the flavors were all there and it was delicious. You can watch me teach you step-by-step how to create the layers and build a tiered cake in the episode!
---
This post is for paid subscribers