Zoë Bakes Deep Dive: Icebox Cake
A Q&A with Christina Nguyen, Chef/Owner of Hai Hai & Hola Arepa
Some of the most delicious food in the Twin Cities comes from Christina's kitchen. She is an absolute master of combining all the things I treasure in a perfect bite: beauty, texture, temperature, and, of course, flavor. The other things Christina adds are an element of surprise and her infectious sense of fun. Her food is James Beard award-winning, but it isn't pretentious or particularly fancy, it is comforting, refreshing, and just freakin' tasty.
Not only is she one of the most talented women I know, but she is also dedicated to giving back to this community in a big way. I've had the great fortune of working on several charity events with her and not only does she deliver the food, but her whole heart goes into whatever she is working on.
Christina and I, completely unplanned, ended up making our mutual friend (another local rock star chef), Ann Kim, twin Barbie Birthday Cakes. This was pre-Barbie the movie craze, we just knew Ann had always wanted one as a kid and that dream was about to come true in double. That's where the similarity ended. Our two cakes could not have been more different. Christina's Barbie was the life of the party, a dancing queen, and looked ready for a night by a bonfire at the beach. Mine was in a swanky cocktail dress ready for the MET gala. The two cakes stood next to each other at the party and Ann was thrilled! Christina, like her cake, is pure joy!
I am so excited to share our conversation below and the delicious, beautiful, surprising, and fun, Che recipe she made on the show.
---
The latest episode of Zoë Bakes Season 3 is all about keeping cool! My mom visited me during a scorching hot weekend, so I made the cool treats you'll see below. Plus, I visited the wonderful Christina Nguyen, the chef and owner of two of the best restaurants in the Twin Cities, Hai Hai and Hola Arepa! You can watch it all Sunday, August 13 at 12 p.m. CT/1 p.m. ET on Magnolia Network. As always, you can stream all three seasons on discovery+ and Max!
---
Icebox Cake
This chocolate icebox cake with homemade wafer cookies and caramel cream is perfect for the hot summer days we have left until fall! It's based on a classic icebox cake recipe and doesn't require you to start your oven on hot days!
---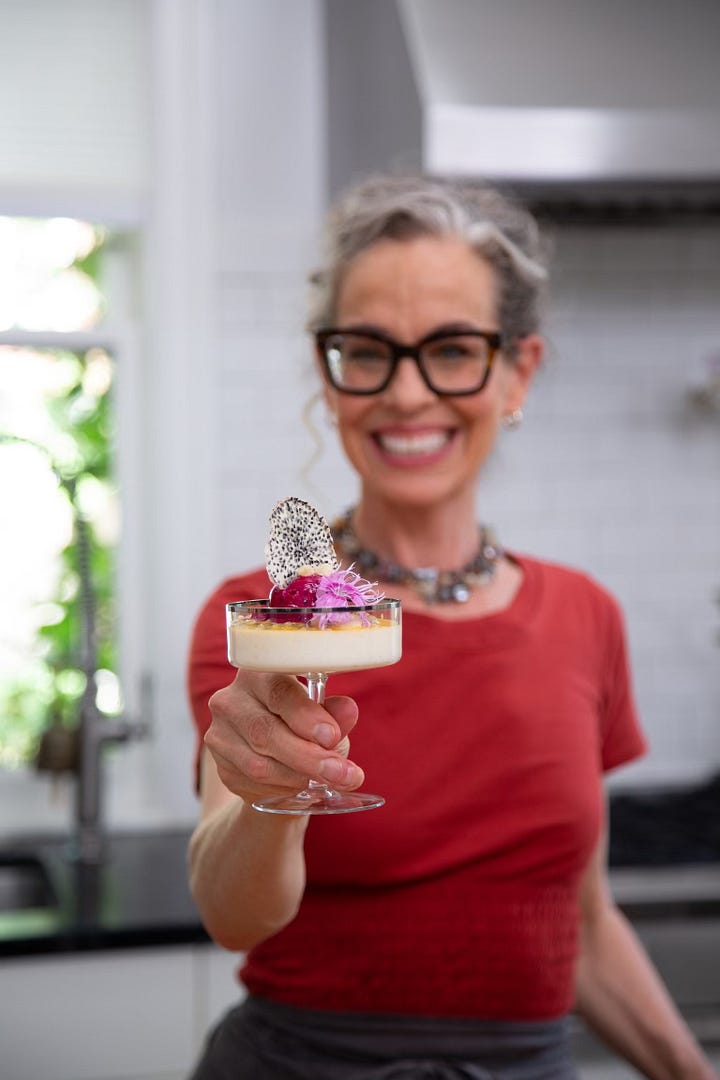 Grapefruit Posset
This is the grapefruit posset recipe I made with inspiration from my friend and James Beard award winning restaurateur, Christina Nguyen. (Learn more about her below!) It's a refreshing, easy and light dessert for hot days that is a nod to Nguyen's exquisite dessert called "che" that she serves at her Southeast Asian restaurant, Hai Hai! "Extras" subscribers will get Christina's exclusive che recipe below!
---
This post is for paid subscribers