Zoë Bakes Deep Dive: Paris Brest
A Q&A with Marc Heu, executive pastry chef and CEO of Marc Heu Patisserie Paris!
To say I married my husband for his name is a stretch, but it didn't hurt. I always joked that a name like Zoë François, with all the accent accessories, needed to be on TV. That was over 30 years ago and here I am with a French name on TV. I hadn't thought it through entirely, that people would assume I speak French, which I sadly do not. When Marc Heu agreed to be on the show and he invited me into his eponymous French bakery, I felt like I'd won the lottery. His pastries are so beautiful and perfectly executed that I was a little intimidated to bake with him. Not only that, he lived and trained as a pastry chef in France, so I thought he'd be disappointed to learn that I'd adopted my French name without learning the language. The second I walked into the shop I was greeted with huge smiles by Marc and his wife, Gaosong, who are the loveliest, most talented people and I felt right at home. After feeding me, Marc got busy sharing his genius.
NEWS: Since this episode aired Marc and Gaosong have moved into a beautiful new bakery space in Saint Paul, MN. It has more room to showcase his exquisite pastries and a place for his fans to sit to enjoy them. If you come to Minnesota, this is a MUST stop. We made rich Pate a Choux desserts on the show together, but his croissants and macarons are not to be missed. A wee bit of Paris right here in Minnesota.
For those of you who can't visit right away, Marc has shared his delicious Vanilla Saint Honore recipe, the one we are eating in the scene above, for you to recreate at home. Bon appetit!
---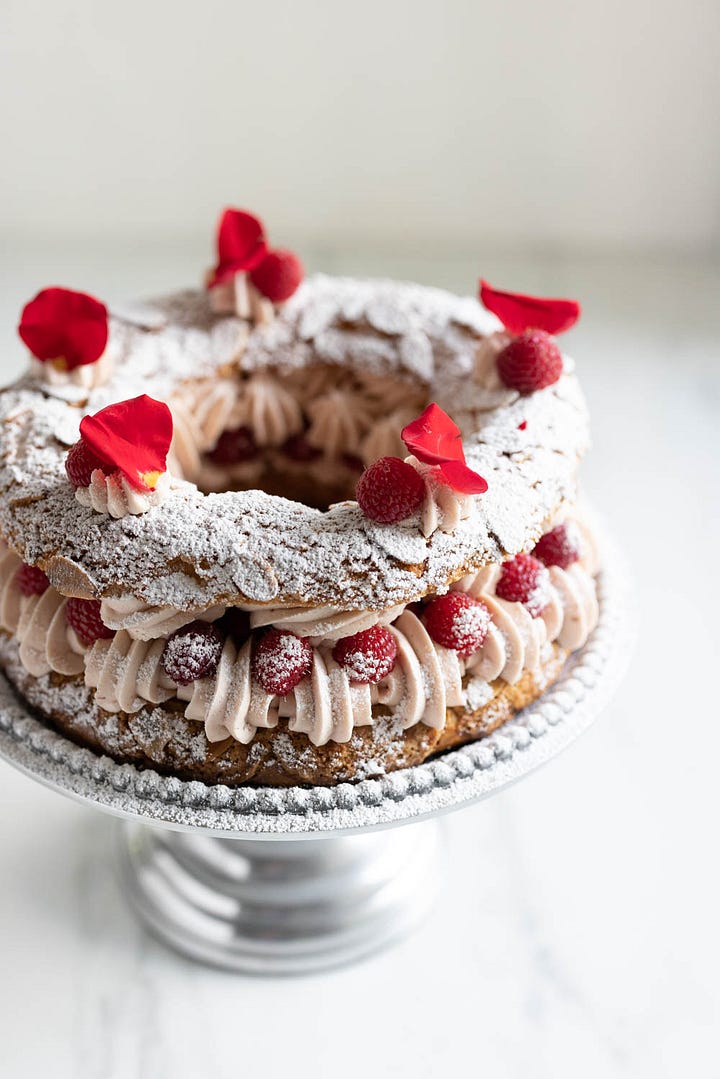 Paris Brest
Minneapolis is known for its lakes, parks and a favorite way to get around them—bikes. Paris Brest is a gorgeous, wheel-shaped dessert based on a French bicycle race between the cities of Paris and Brest. This raspberry version is a delicate pastry filled with cream and jam.
---
One of the kindest and most talented pastry chefs in the Twin Cities, Marc Heu, and his wife, Goasong, showed me around their bakery and taught me the tricks Marc uses to create his stunning version of Paris Brest. His bakery is a must-stop in the Twin Cities. Be sure to catch this episode on Magnolia Network this Sunday, July 23 at 12 p.m. CT/1 p.m. ET.
This post is for paid subscribers