Zoe Bakes Deep Dive: Sweet Corn
Plus, a Q&A with the one and only, Jon Wipfli of Animales Barbecue!
A little corn trivia, Minnesota is in the top 5 corn-producing states. We know our corn and have some of the very best. Granted most of the corn we grow is not for human consumption, at least not eaten straight off the cob. We grow it for animal feed, corn oil, and ethanol, plus some sweet varieties are used to slather with butter or, in the case of my friend, Jon Wipfli, spicy lard. It's messy, fun and fantastic.
This time of year you'd be remiss not to have sweet corn on the table and in several ways. In the last episode of the season (well, there are a couple more coming for the holidays) I went to Jon's house to see what he was doing with corn. Of course, he did not disappoint.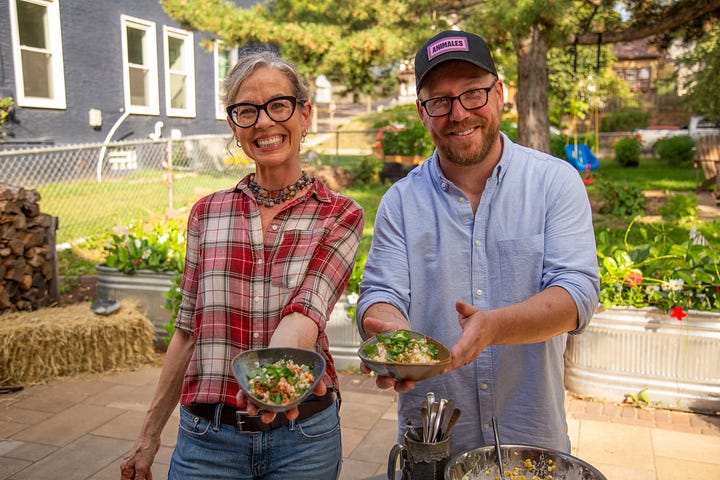 Jon is one of the most talented chefs in town, hands down, no disputing it. His award-winning food truck, Animales Barbecue, is world-class and worth a trip to Minneapolis. Jon also happens to be one of the greatest humans I have the good fortune to call a friend. I think the James Beard, Julia Child, Jacques Pepin, IACP, and other foundations need to create an award for people who are not only at the very top of their game but also represent the best of humanity. It is an accomplishment to cook well, but Jon is also dedicated to giving back to his community through countless charities and is kind beyond words.
I met Jon a decade ago. He invited a group of people over for a chicken ballotine party, as a world-class chef does. Let me clarify, he wasn't just preparing it for us, he was teaching us how to bone, stuff, and truss the chickens ourselves. I am a baker and have been told by many a chef that my knife skills are in need of some work. Understatement. With Jon's patient tutelage, I removed the bones of that chicken like a pro. It's one of my proudest moments with a knife. That's Jon in a nutshell. Create a party around something unique, challenging, and delicious. We've been friends ever since.
If you are a subscriber to my "Extras" newsletter, you will get access to the exclusive sweet corn pancake recipe below. It's perfect for the sweet corn you cut away from the cob but you can also make it with canned corn. I recently ordered a case of garbanzo beans from Costco and they delivered a case of canned corn instead. I was too busy to return it so I've been trying to use it up in creative ways. So, don't despair if you are finding this recipe after fresh corn season, it is really good with the canned stuff too.
I also made the recipe in two ways. As you all may know from watching Zoë Bakes, my family has opinions. Ha. I made the pancakes for my husband, Graham, and son, Charlie. Graham loved the whole kernels of corn with their pop of texture and flavor. Charlie, on the other hand, loved the flavor but wanted the texture to be more uniform AND he suggested I add blueberries. So, I made them again to his taste and he LOVED them. So, I present to you, sweet corn pancakes in two ways. Which is to your liking?
If you are not a subscriber of the "Extras" newsletter, yet, you can join for a free 7-day trial. This offer will be going away soon, so now is your chance to try it out!
---
The season 3 finale of Zoë Bakes makes a seasonal favorite the star: Sweet Corn! I celebrate the end of summer with a barbecue featuring cornbread and sweet corn ice cream, plus plenty of smoked meats with help from Jon Wipfli of Animales Barbecue. It was a perfect way to celebrate with my friends. Watch the episode this Sunday, September 23 at 12 p.m. CT/1 p.m. ET on Magnolia Network!
---
Cornbread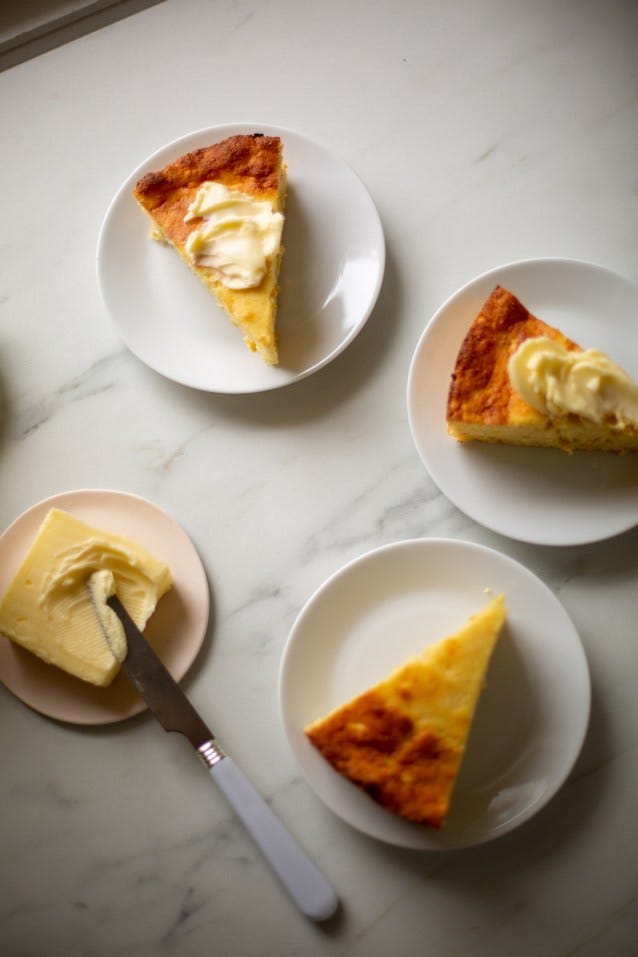 The sweet corn flavor is wonderful in this cornbread recipe. A full cup of fresh corn makes all the difference, and the soft and flaky texture is everything you want in a cornbread.
---
Sweet Corn Ice Cream
I wanted the sweet corn to shine in this ice cream, so it's a simple recipe with of a bit of sugar, a touch of honey, lots of cream and a dash of vanilla. A (hearty) drizzle of caramel sauce on top takes it to the next level. It's a wonderful treat perfect for sweet corn season!
This post is for paid subscribers