Zoë Bakes Deep Dive: Victoria Sponge Cake
A Q&A with Heidi Skoog of Serious Jam!
Before I introduce you to one of the greatest jam ladies, I wanted to say THANK YOU! The "extras" newsletter is one of Substack's top offerings and I am over the moon about it. I love creating this newsletter, where I get to share all the tasty things I am obsessed with and showcase the talented people I've had the good fortune to meet. I really appreciate the love and that you recommend it to your food-loving friends and family. Please leave a note in the comments if there are topics you'd like to see me cover. It takes a village to bring the newsletter to life and I want to sing the praises of my incredible team, Stephani and Eric. They really are Extra! xo z
Okay, no more waiting … let's talk about Jam!
My friend, Heidi Skoog, is serious about jam, and yet her method of making it is way less uptight than many recipes I've seen. Her company, aptly named, Serious Jam, is a wildly popular booth at our local Mill City Farmers' Market. You have to get there early to sample her seasonal creations before they sell out.
I met Heidi years ago when I was invited to her house for a Tomato Party. She had a bumper crop and decided to throw a party in honor of the bounty of tomatoes she'd grown. There was gazpacho (of course), salads featuring all colors of tomatoes and I made a clear tomato-water sorbet, but it was Heidi's Tomato Jam that stole the show. No matter what she ends up turning into a jam, it is always crazy-delicious and just a little surprising. You can order her jam (be sure to sign up for Jam of the Month Club) or make the Classic Raspberry Jam recipe she so generously shared below. You'll also find her tips and techniques, inspiration, and favorite cookbooks. Enjoy!
Don't forget, this episode premieres on Magnolia Network this Sunday 12 p.m. CT/1 p.m. ET!
---
Victoria Sponge Cake
Victoria sponge cake is deliciously light thanks to "self-raising" flour, a common ingredient in the UK, which contains baking powder and salt in the mix. The traditional filling is whipped cream and jam with a dusting of confectioners' sugar. I added some strawberries for flavor, texture, and decoration along with some edible flowers.
---
Summer in Minnesota means one thing—strawberries! To celebrate, I make a Victoria Sponge Cake, an English dessert comprised of fluffy sponge cake filled with strawberry jam (Heidi shows me how to make it from scratch), strawberry Chantilly cream, topped with edible flowers, and more strawberries.
---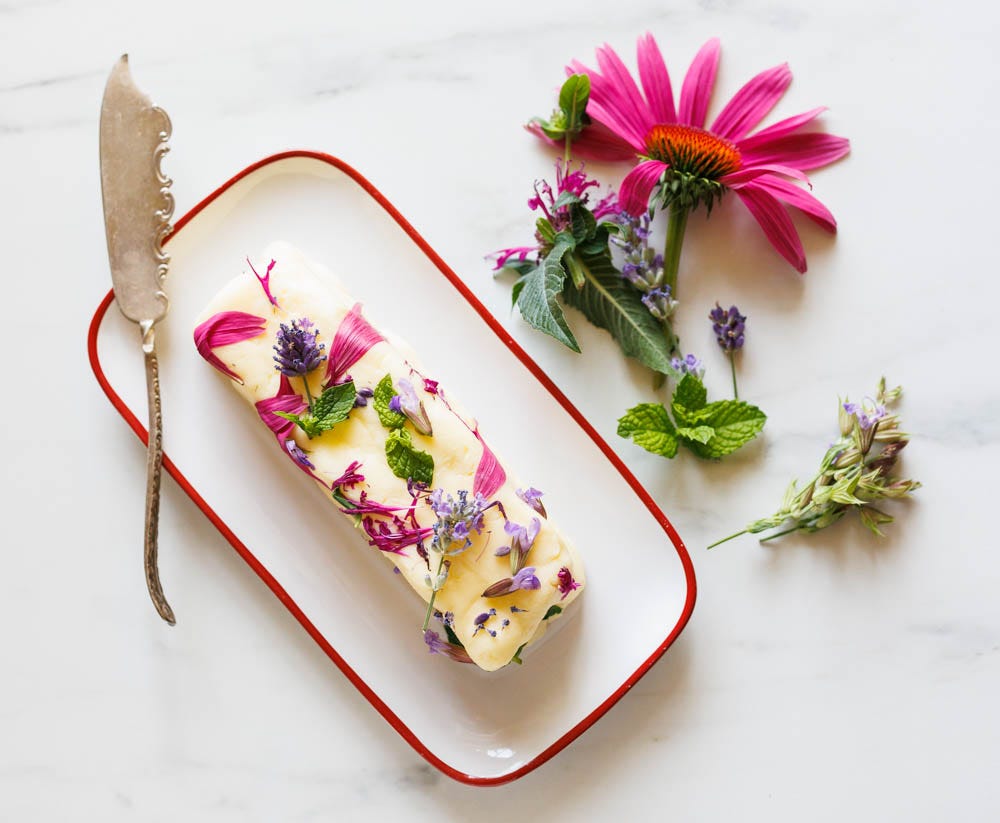 Bonus Recipe: Homemade Sweet Butter
I love happy accidents in the kitchen. When I was making the Chantilly cream while filming this episode, I accidentally overwhipped it. Once you do that, there's no going back. So we went with it and made some delicious homemade sweet butter!
This post is for paid subscribers